FOR SALE: $55,000
2020 NeoGraft 2.0 
Excellent Results For Hair Restoration
NeoGraft® is the industry pioneer and market leader with one of the first automated FUE system in the hair restoration market. NeoGraft®'s harvesting, site-making and implantation functions make it easier than ever for physicians to address hair loss and provide the hair restoration procedures that patients want. The inefficiencies of manual extractions and implants have been eliminated, and replaced it with advanced technology that provides patients with the benefits of the FUE procedure while also enabling physicians to perform fast, effective, safe hair transplants that yield superior clinical results. 
Listing Price: $55,000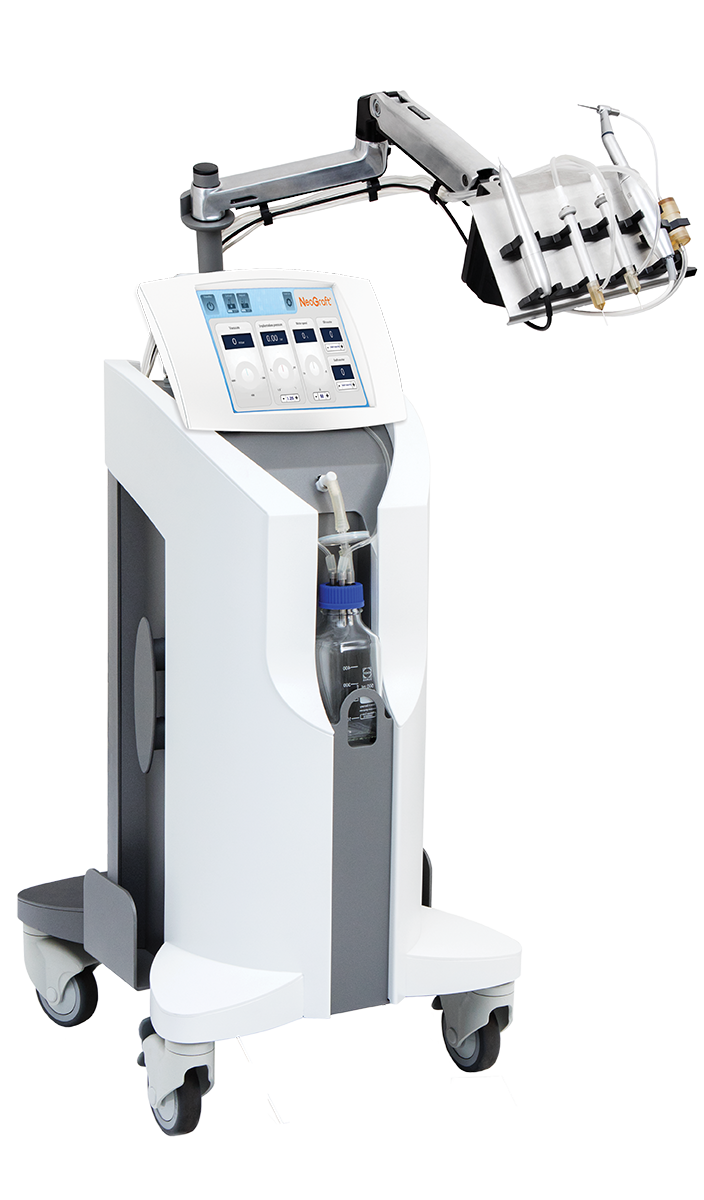 Excellent Results For Hair Restoration With A Minimally Invasive Treatment
OPTIMIZED WORK FLOW
Double-jointed arm and enhanced ergonomics ensure faster and more comfortable procedures for both patients and physicians
New contra angle eliminates loss of fluid and protects grafts through vacuum seal
Recipient site creation handpiece delivers more standardized implants
No-touch implanter offers the least amount of bulb trauma
Autoclavable handpieces offer sterilizable and cost-effective tools
PNEUMATIC MOTOR AND SMART DRIVE TORQUE TECHNOLOGY
Piston-driven motor delivers precise pressure control for both extraction and implantation
Smart Drive Torque Technology delivers 100% torque to the contra angle/punch, for continuous rotation and the smoothest entry.
Consistent suction and spin lead to standardized extractions, high quality grafts, and superior patient outcomes
INTUITIVE TOUCHSCREEN INTERFACE WITH GRAPHICAL USER INTERFACE (GUI)
Automatic, real-time extraction and implantation of graft counts eliminates manual counting and paperwork
GUI delivers user friendly, intuitive, interactive experience
Treatment screens allow users to easily switch between two modes – extraction and implantation
User management tools help track and improve performance of treatment providers
OPERATIONAL EFFICIENCY WITH INTERNET OF THINGS (IOT) TECHNOLOGY AND DEVICE MOBILITY
Advanced IoT technology capabilities enhance business operations by optimizing treatment protocols, improving patient results & satisfaction, and maximizing operational efficiency & ROI
Quiet operation and energy-efficient usage
Device occupies less than 5 sq. ft. and weighs 36 Kg with storable pedals and 360-degree turning wheels
NeoGraft® Hair Restoration System
The Trusted Hair Restoration Solution
NeoGraft®'s revolutionary automated Follicular Unit Extraction (FUE) and implantation technology leaves no linear scar and is minimally invasive with fast patient recovery. It eliminates the inefficiencies of common manual tools and procedures while enabling physicians to offer hair transplants with consistent clinical outcomes. NeoGraft® delivers superior clinical efficacy and high patient satisfaction, as evidenced by an average "Worth It" rating of 95% on RealSelf.com.
CONTACT SELLER:
For Purchasing please contact hello@mdhairlabs.com
Contact us for more information about the Artas Robot