WHat is SMP
At MD Hair Labs, we offer a state-of-the-art solution for treating male pattern baldness: scalp micropigmentation. This treatment involves the use of specialized techniques and equipment to deposit pigment into the scalp, creating the appearance of a full head of hair.
SMP can be an effective treatment for hair loss for several reasons. First, it is a non-surgical treatment, which means there is no downtime or recovery period. Second, it is highly customizable, and the pigments can be matched to the patient's natural hair color to create a seamless and natural-looking result. Third, it can be used to cover areas of hair loss and create the appearance of a fuller head of hair. SMP can be especially effective for patients who have thinning hair or balding areas, as it can help to restore the appearance of a full head of hair.
SMP gives your head a shaved/buzzed appearance. A patient can expect a scalp micropigmentation (SMP) procedure to be a non-surgical treatment that uses specialized pigments to create the appearance of a full head of hair. The procedure involves applying the pigments to the scalp in tiny, individual dots, which mimic the natural growth pattern of the hair. The result is a fuller and more natural-looking head of hair. The procedure is relatively quick and typically takes several hours to complete. There is no downtime or recovery period, and the patient can resume their normal activities immediately after the procedure. The results of the SMP procedure are long-lasting, but they may fade over time and require touch-up treatments to maintain the desired appearance. 
Real Patients, Real results 
Before Picture: In the before picture, the patient presented with thinning hair and visible patches of hair loss, particularly in the hairline region. The overall hair density was reduced, resulting in a less defined and natural-looking appearance.
After Picture: Following two Scalp Micropigmentation (SMP) procedures, the patient's hair density was significantly improved, achieving a fuller and more natural appearance. The SMP treatment successfully recreated a well-defined and aesthetically pleasing hairline, enhancing the patient's overall facial features and symmetry. The final result left the patient satisfied with the level of density and hairline shape achieved through the SMP procedures.
More Patients, More Results
In the initial assessment, the male patient exhibited an advanced stage of androgenetic alopecia, resulting in nearly complete alopecia across the scalp, characterized by the loss of terminal hair and the presence of small vellus hairs.
Upon completion of his 3rd Scalp Micropigmentation (SMP) session, the patient demonstrated remarkable progress, showcasing a crafted approach that yielded impressive results. Our meticulously designed SMP treatment expertly simulated the appearance of natural hair follicles, carefully considering the patient's unique scalp characteristics, hairline, and facial features. During the 3rd procedure, we precisely refined the density in specific regions, optimizing the overall visual impact and enhancing the illusion of naturally dense hair growth. Despite the initial challenge hair loss, our scientific SMP technique, backed by extensive expertise, successfully transformed the patient's appearance, showcasing the effectiveness of our approach in addressing advanced hair loss concerns.
Benefits of SMP for Thin Hair
Provides the appearance of a full head of hair (a shaved/buzzed look)
Restores receding hairlines
Scar concealment, including scars from failed hair transplants.
Increases confidence
Long-lasting results
Appointments in 4 hours or less
Zero Downtime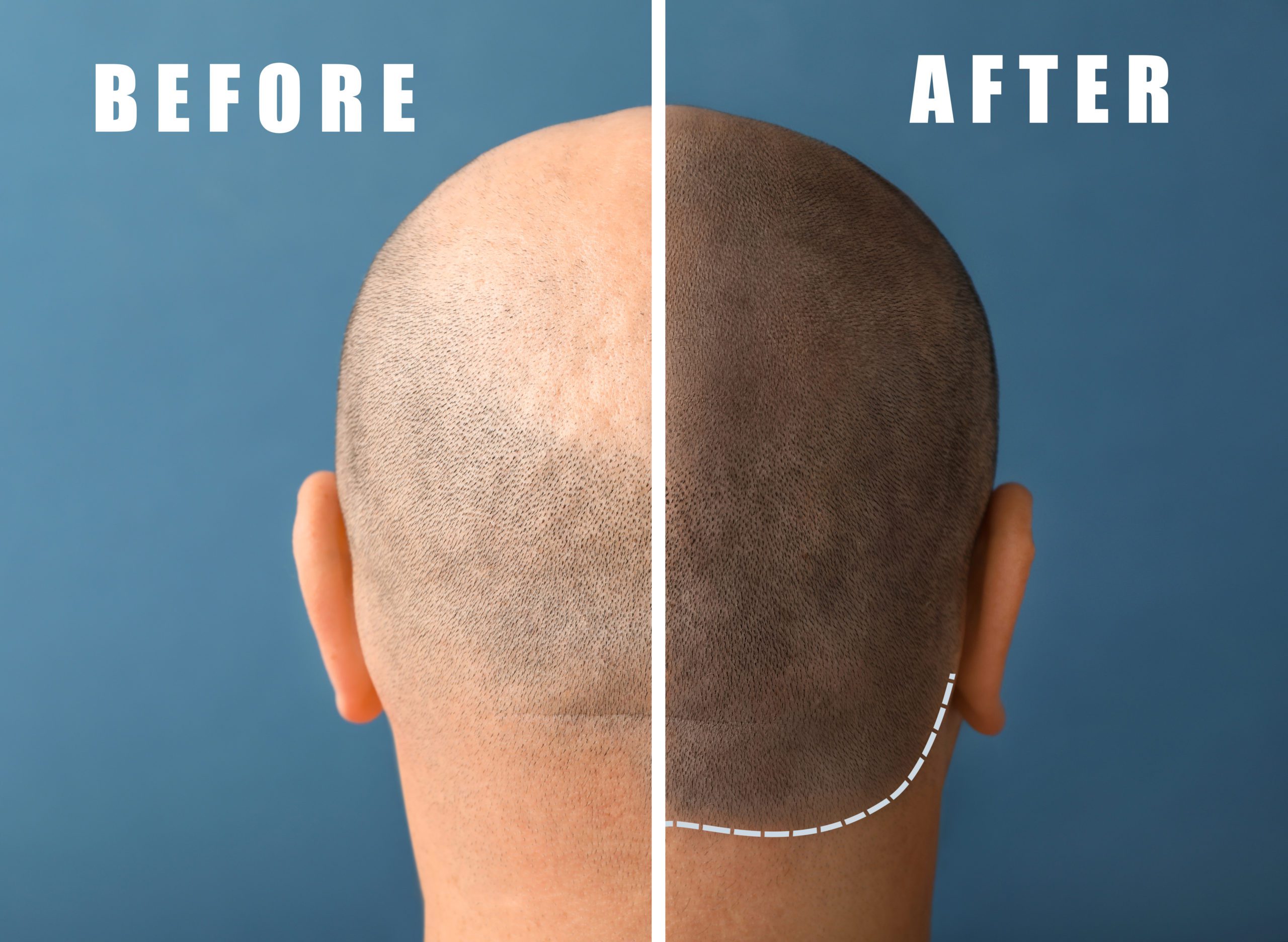 At MD Hair Labs, we are dedicated to providing our clients with the highest level of care and service. We take the time to listen to your concerns and tailor our treatments to your individual needs and goals. Our team is committed to helping you achieve the results you desire and to providing you with a positive and rewarding experience.
Pricing for skin micropigmentation for male pattern baldness varies based on the extent of treatment needed. During your initial consultation, we will provide you with a detailed quote that takes into account your specific needs and goals.
Because SMP is non-surgical and non-invasive, you're able to get back to your normal routine almost immediately. Most patients leave the same day of their treatment and go to work the following day.

 

If you are interested in learning more about skin micropigmentation for male pattern baldness, we encourage you to please contact our office. Our team will be happy to answer any questions you may have and to help you determine if this treatment is right for you.
WHAT OUR PATIENTS SAY

I had a great experience with my hair transplant procedure received at MD Hair Labs this week. Still very early in the process; however, I can say the procedure itself and the first few days afterward have been exactly as advertised. Zero pain on the day after. The game plan over the next few weeks to ensure successful transfer is super low maintenance. I can't wait to see the final product!
COREY W.

The hair transplant procedure I received by MD Hair Labs has been a rewarding process. In just a few weeks I can see the results of where my hairline started and where it will be once the growth cycle is completed. The procedure itself was fairly painless, and the team at MD Hair Labs went above and beyond to ensure I was comfortable from start to finish.
DUSTIN R.

Consultation provided step-by-step guidelines on what to expect pre-op, during the procedure, and post-op. Doctors and staff are excellent communicators, incredibly responsive to questions, and provide a comfortable environment with their positive attitudes. Overall, I was very happy with my experience and would highly recommend.
HAYDEN R.