SERVICES
WAW-FUE HAIR TRANSPLANT
Most Advanced  HAIR TRANSPLANT PROCEDURE
MD Hair Labs is a state-of-the-art hair transplant clinic that offers a range of hair restoration procedures, including the innovative WAW FUE system. This cutting-edge method uses water to assist in the extraction of hair follicles, resulting in a more precise and gentle procedure with less damage to the follicles and a faster recovery time.
If you are considering a hair transplant procedure, you want to be sure that you are in the best hands. That's why MD Hair Labs is the best choice for hair transplant patients in the country. 
FUE Hair Transplant: Behind the Scenes 
Step into the fascinating world of hair restoration as we take you on an exclusive behind-the-scenes journey of a real patient undergoing a transformative hair transplant procedure. Witness the meticulous process, from the initial consultation to the final result.
The WAW device combines state-of-the-art technology and unparalleled expertise to deliver a superior hair transplant experience. Its advanced oscillating punch creates tiny, controlled incisions, minimizing trauma to the donor area and ensuring faster healing times.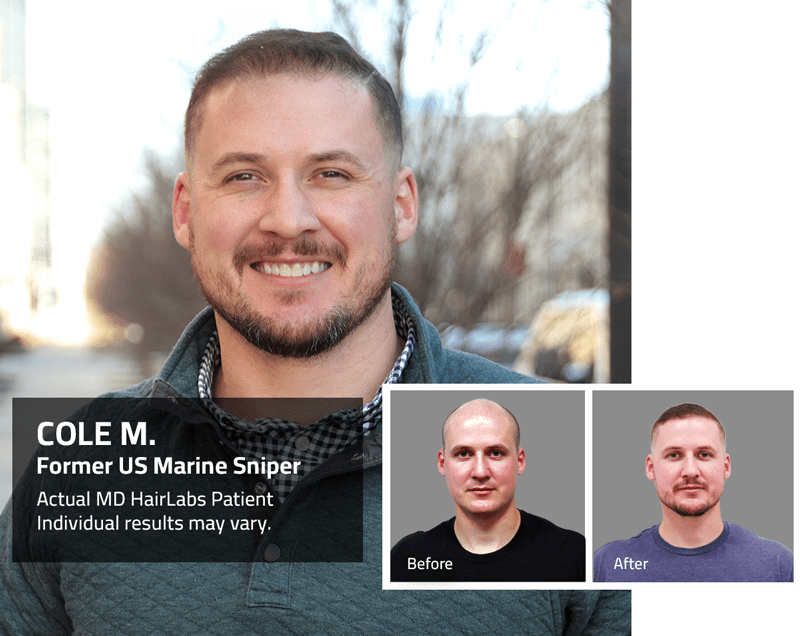 Patients Results
At MD Hair Labs we're all about results. We are committed to helping you get the best results possible so that you can live your life with great hair and confidence. That's why we customize every treatment to meet your hair's specific needs, oral and topical supplements, and red light therapy can be included with every transplantation procedure. 
STEP 1
CONSULTATION
Before the procedure, we will discuss your potential outcome and set expectations of what you could look like following the procedure. We will also analyze your scalp to customize the transplant based on your degree of hair loss.
---
STEP 2
HAIRCUT
No need to prepare in advance, we will cut
or trim your hair as needed to allow accurate visualization of your hair follicles 
---
STEP 3
DONOR HAIR IS 
HARVESTED
Our expert surgeons identify individual follicles for
extraction and hairs are extracted.
---
STEP 4
SCALP & HAIR
FOLLICLES PREPARED
We'll remove individual follicles from your scalp by isolating them, extracting them from the scalp examining them and preparing them for placement.
---
STEP 5
 HAIR FOLLICLES
ARE PLACED
When the follicle grafts are ready, they are then
strategically placed one by one according to the
number of hairs within each follicle, in order to
maximize the naturalness, density, and coverage of the thinning areas. 
---
STEP 6
CHECKUP
You will come in for a brief appointment the day after the procedure so our hair experts can answer any questions and check on the newly transplanted follicles.
---
STEP 7
HOME CARE
SUPPLIES
Home Care Supplies In addition to providing post operative care, we will also provide some essential products to help with the transition and growth of the new follicles.
---
STEP 8
SIT BACK AND WATCH NEW HAIR GROW!
It will take several months to see your full
results, but you will begin to see new hair
growth in just a few short weeks!
---
WHAT OUR PATIENTS SAY

I had a great experience with my hair transplant procedure received at MD Hair Labs this week. Still very early in the process; however, I can say the procedure itself and the first few days afterward have been exactly as advertised. Zero pain on the day after. The game plan over the next few weeks to ensure successful transfer is super low maintenance. I can't wait to see the final product!
COREY W.

The hair transplant procedure I received by MD Hair Labs has been a rewarding process. In just a few weeks I can see the results of where my hairline started and where it will be once the growth cycle is completed. The procedure itself was fairly painless, and the team at MD Hair Labs went above and beyond to ensure I was comfortable from start to finish.
DUSTIN R.

Consultation provided step-by-step guidelines on what to expect pre-op, during the procedure, and post-op. Doctors and staff are excellent communicators, incredibly responsive to questions, and provide a comfortable environment with their positive attitudes. Overall, I was very happy with my experience and would highly recommend.
HAYDEN R.